I'm working on planning next year's curriculum.
Confession time, I'm almost ALWAYS planning next year's curriculum. Maybe I should spend more time focusing on THIS year's?
David is in high school now. I worried and fretted about it for years ahead of time. But actually, it's been a pretty good year.
Maybe I shouldn't have worried? Or maybe the worry helped?
I love the freedom of homeschooling. I love being able to select curricula for all of my children and their own unique needs. And while I love the general concept of delight-directed learning, there are certain subjects that we have to teach whether my kids like them or not.
David is a math, science, and computer kid. He really is not into history, social studies, or literature at all. But he still has to study them. On deck for next year is Economics and Civics. I've done some searching and I'm not finding a lot that is likely to interest David. (i.e. I think he would hate everything I've looked at.)
But "lucky" for me (and David), I discovered Compass Classroom. First, David tried Visual Latin. It started out as a review, but he ended up liking it so much that we switched over to it for Latin II this year! Then in the fall, I enrolled him in Filmmaking from the First Directors. That has been an incredible class for him. It is excellent. (But a lot of work!!!)
Needless to say, when I got the chance to review another of their products, Economics for Everybody, I jumped at the chance. I have not been disappointed.
Economics for Everybody consists of 12 video lessons and a pdf study guide. The lessons are taught by R.C. Sproul, Jr. and just like everything else from Compass Classroom, they are engaging and fun. These are not videos of R.C. Sproul Jr.  standing in a classroom, but instead, include fun video clips from a wide variety of old movies.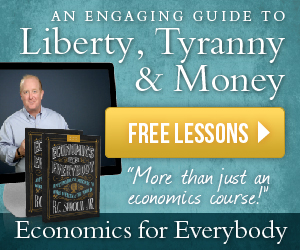 See what I mean? These lessons bring an often "boring" subject to life with simple explanations and excellent illustrations of economic concepts.
I don't actually think economics is boring. I even minored in it in college. 
Things to mention:
This course is titled Economics for Everybody, but it is from an unapologetically Christian perspective. The whole foundation of the study is on man's place in this world and how he was put here by God. I think the "everybody" is referring to the fact that R.C. Sproul, Jr. explains everything so well that "everybody" can understand.
I would not consider this course alone to be sufficient for 1/2 high school credit. However, neither do the publishers and they have included a generous list of additional resources and even suggested texts to accompany the study.
Disclosure: The links to Compass Classroom products are affiliate links. I received a free copy of Economics for Everybody in order to write this review. I was not compensated for this post. Opinions expressed are my own.