As I look back over David's homeschool career, history has often been a struggle. We started off well, with lots of hands-on projects and notebook pages. He began to use the computer for making notebook pages at a young age (about 2nd grade). We had one year in a co-op for Tapestry of Grace and in hindsight that was a good year. At the time I was often frustrated with the group setting.
Starting in David's 6th grade year things really started to go downhill in the history department. We focused on reading real books, but we often rushed. I tried to keep all the children together in their history assignments. I was frazzled. Most of the hands-on projects disappeared from our home. Basically the only thing that we managed to slog through was the reading.
With high school coming, I knew that something had to change, so I went in a completely new direction for David. I went with the Textbook – Get It Done Approach for World History. And honestly, there were some things that worked really well with it. The program we used was broken down into daily readings so it was very simple to use. It included comprehension questions, quizzes, and tests. And we made it through.  It did nothing to ignite a love of history though.
Disclosure: This post contains affiliate links. I received a free download of Part 1 in order to write this review. I was not compensated for this post. All opinions expressed are my own.
Next year is American History. I was going to have David use the Textbook – Get It Done Approach again. That is  until I had an opportunity to review Dave Raymond's American History Curriculum from Compass Classroom.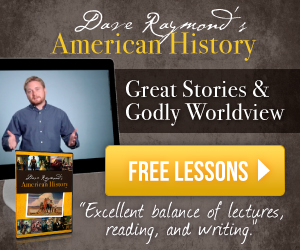 I am excited to give this curriculum a try. It has some of the features that have worked well for David.
Well structured and divided into daily lessons
Includes quizzes and tests
But there are some major differences that I am excited about.
Video format –
The daily lessons include a relatively short video (about 10 minutes) with Dave Raymond teaching. I think this format will work well for David. He tends to lose focus with lots of reading. I like that Dave Raymond stresses taking notes. That is a skill that David needs to develop before going to college and this will be good practice.
Accompanying readings –
The readings are mostly primary source documents that go along with the lecture. They are typically not lengthy. One thing I love about both the student and teacher guide is that the download includes  a pdf version, a Kindle version, and an epub version! So David can read from the Kindle, but I can print things as necessary from the pdf version on my computer. Super idea!
Portfolio and other projects –
This is what I find the most exciting about this curriculum. I feel like we're coming full circle back to our early days of studying history. (Ones that David actually enjoyed!) Along with the lectures and the reading, the student completes a portfolio of their work. (Similar to the notebook pages we used to do.)It's described as a scrapbook type of book, but I think we will likely modify it for David and have him create his in electronic form. There are also several other assignments – some of which include a research paper, delivering an historical speech, and the final project called the Hour Project. The options on the Hour Project are limitless, but knowing my son, the project will likely culminate with a video production.
Updated: The curriculum is now available as a whole with 26 lessons. It's available as a download (regular price $120) or on DVD (current price $120/set). You can also view samples on the Compass Classroom website. To make this a full high school credit, it is necessary to complete the extra projects, however, the curriculum is suitable for upper middle school as well.