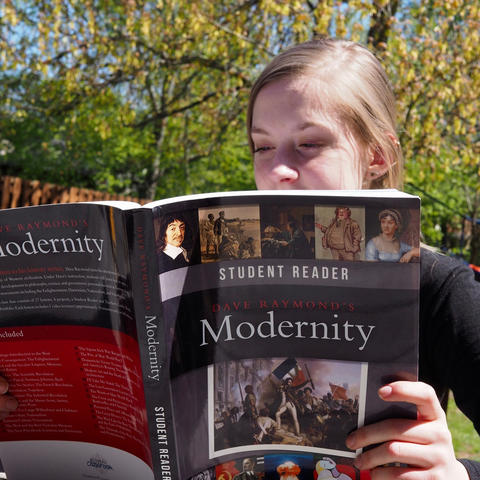 Compass Classroom recently released a new modern history class entitled Modernity, and they gave me the opportunity to preview the course. Covering a wide range of topics from modern history including the Enlightenment, Napoleon, the Industrial Revolution, and the World Wars, the high school level class consists of 27 weekly lessons. Each lesson includes 5 video segments with instructor Dave Raymond that are approximately 20 minutes long.
Along with the video, there are accompanying reading assignments available in Kindle, pdf, and epub formats. In addition to the lecture and reading, the student works on a portfolio and several projects over the course of the school year. The modern history projects include a Reformation Imitation Project, a Speech on Tradition, a Research Paper, and the Hour Project.
The Hour Project is an open-ended final project of the student's choosing. It should be something that takes a substantial number of hours to complete (they recommend 30-40) and can showcase the talents and interests of the student. Some examples in the teacher guide include copying a famous painting, making a reproduction of a piece of Victorian furniture, or creating an illustrated children's book.
4 things to love about Modernity
Easy to teach – The course is well-laid out and teacher-friendly. It's divided into daily lessons so it's very open and go with little to no planning required.
Interesting presentation – Dave Raymond is excited about history and it shows in his presentation. He's interesting to listen to. While much of the video is lecture, there is a nice blend of related images mixed with the video of the speaker.
Christian Worldview – There is plenty of opportunity to study history from the politically correct, secular worldview. This class not only teaches history from a Christian perspective, but also provides the Christian perspective of why history is important to study.
Variety – While the format is predictable with 5 daily videos and corresponding readings, the projects and portfolio pages add the opportunity for students to be creative and truly own the content.
If you're looking for an American History course you can read my review.
Discloser: I received a free download of 8 lessons of Modernity in order to write this review. I was not compensated for this review. All opinions expressed are my own. This post includes affiliate links.