When you tell people that your children are learning Latin, you get a variety of responses.
People who don't homeschool tend to think it's a bit odd and usually lump you into the category of parents who push their kids too much in academics. (OK, so they don't say that exactly, but you can imagine the look accompanied by the standard, "Oh, really? Why? Isn't Latin a dead language?" comments.)
People who do homeschool have usually heard of other homeschoolers who teach their kids Latin, so they're not usually as surprised. But their reactions tend to vary based on their own homeschool philosophies. On one end you have those who think that you need to relax more. That is contrasted with those on the other end of the spectrum, who want to know what Latin curriculum you use, because they're either planning to or are already teaching Latin too. I'm always eager to talk about curriculum, so I much prefer the latter.
A few years ago, there were not very many options for Latin study. It seems that more people are recognizing the value of teaching Latin, and as a result, more companies have begun offering Latin programs specifically designed for homeschoolers. While it is fantastic to have so many options, it can make choosing curriculum a daunting task.

One of the newer Latin programs is Visual Latin. I had heard nothing but positive things about this new program, so I was excited to take a look at it for myself.
I received Lessons 1-10 of Latin 1 to review. (The entire Latin I course consists of 30 lessons.) Each of these lessons is divided into 3 video segments. The first segment introduces the topic and discusses the basic grammar. The second segment has sentences, and the third segment is Latin reading. Also included for each lesson are worksheets in pdf form.
I received the downloaded version of these lessons. (DVD's are also available.) These can be watched on the computer or on the television if you are able to connect your computer. (That's what we did.) They can also be watched on an iPod or iPad. I wish I had an iPad to test it out on. I didn't try it out on my iPod, because I don't typically find it a very convenient way to watch videos.
My two older children have been studying Latin for several years now. (They're on different levels using different programs. But that's a story for another day.) Since neither of them is a beginning Latin student, I didn't have a child who could truly test this product. (My younger children are not ready for Latin because they're not reading well enough in English yet.) But I had my older son (13 years old) view the videos with me. I choose him so that he could start the year with a little basic review, and so that I could get his opinion of the program. (I also needed him to help me hook my laptop up to the television.)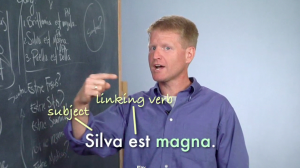 What did we think?
First, Dwane Thomas, the instructor, is very funny. He also explains the concepts well. But we both especially enjoyed his humor.
This approach to Latin is entirely different from that in any of the other curricula I'm familiar with. Rather than starting with memorizing noun or verb endings, Dwane starts with examples of whole sentences and demonstrates the different endings by showing many examples. It definitely is a more interesting approach.
Did I mention how funny Dwane is?
The downloads were convenient and easy to use. You are allowed to make enough copies of the worksheets for your immediate family. That is a significant savings over purchasing consumable worktexts.
What I can't say is if this different approach to learning Latin is effective or not. I can't say because there wasn't anything unfamiliar in the lessons that we studied, with the exception of a few vocabulary words. I tried to imagine myself not knowing Latin. I don't know if I would be confused or not. What I suspect is that this program is super for some types of learners, but some children may prefer a more traditional program.
I think that if my older son were just now starting Latin, Visual Latin would be at the top of my list. (And I have 3 more children who will be studying Latin in the future.)
The good news is, you can take a look at this program for yourself before you buy it. Visual Latin allows you to view free sample lessons.
Disclosure: I received 10 lessons of Visual Latin to review. I was not compensated for this review. All opinions expressed are my own. This post contains affiliate links.