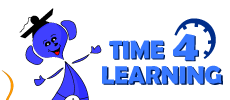 Time4Learning is an on-line learning program for kids from preschool through 8th grade. It provides instruction in language arts, math, science, and social studies through engaging, interactive games. It can be used as the core curriculum for your homeschool, or as a fun supplement. The child can work independently on the lessons, freeing up the parent for other tasks. The program includes a thorough reporting system, allowing the parent to assess their child's progress in the program.
This is the third time I've had the privilege of reviewing Time4Learning. Here are my previous reviews of Time4Learning Preschool and Time4Learning. I signed up 4 of my children for the program. (K, 3rd, 6th, and 8th grades). The primary user was my kindergarten daughter. She was the same one who used the Preschool program in the previous review. Once again, she loves it!
I assigned her to the Kindergarten level. While she was enjoying the lessons, I thought that they were a bit too easy for her. I was able to access the 1st grade level in math and reading without making any changes to my account. I found those to be a better fit for her, because she is already starting to read and do basic math. The Kindergarten math program mainly consisted of patterns, counting, number recognition. Instead of skipping to 1st grade, I could have had her first skip ahead to some of the more difficult Kindergarten topics (addition and subtraction are covered at the end), but chose not to since this is a short trial review period.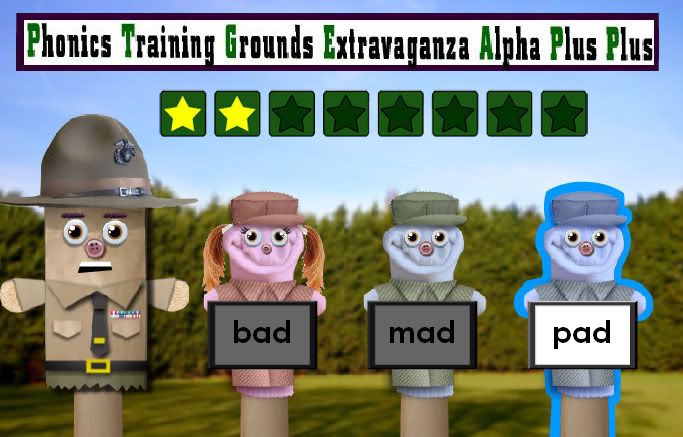 I also switched her to the 1st grade level for reading. The image above is from Chapter 1 of the 1st grade language arts program. After a short review of letter sounds, it moves right into short a words. My daughter is easily reading at this level so she had no difficulty with the concepts in the lessons, but she had some problems with completing the games. There was one particular game that required her to click quickly to hit a target, and that was too hard for her to do.  So her computer and hand-eye coordination skills weren't quite up to the expected level for the 1st grade games, even though she frequently plays simple computer games.
Overall, I think the Time4Learning is a solid program for teaching the basics in a fun way for children who enjoy computer games. My two older students do not personally like the program. Although my oldest loves working on the computer making his own games and editing films, he doesn't want to do his schoolwork on it. Probably because it wouldn't allow him to finish it as quickly as his usual lessons. (That actually might be a good thing…) My older daughter is a paper loving child. She wants nothing to do with the computer at all. My middle son does like the program, but needs more teacher interaction in a core curriculum. But I would definitely consider this program for my youngest daughter. I am finding it difficult to devote enough time to teaching each of my children individually and Time4Learning could provide a way for her to be learning more independently of me.
Time4Learning offers free lesson demos. That would be the best way to find out if your child would enjoy the program. The program is available for $19.95/month for one child. Additional children can be added for a discounted price of $14.95/month. The service can be cancelled at any time and they offer a two-week money back guarantee.
Disclosure: I received 1 free month of Time4Learning in order to review it for TOS Homeschool Crew. I was not compensated for this review.