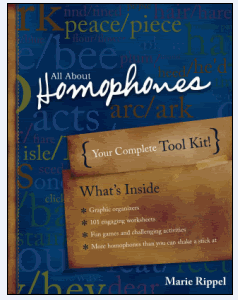 All About Homophones
is a book produced
by
All About Learning Press
and
it's
about…Homophones. 
In
case
you're
wondering what homophone means, it is derived from the Greek and literally means same sound. 
So
homophones are words that sound the same,
but
are spelled differently and have different meanings.
Some
examples are
two/too, won/one, would/wood
, and
deer/dear
.
The book is full of great activities for teaching your children about different homophones: both their meanings and their spellings.  It contains 101 worksheets: each highlighting a different pair of homophones.  These are divided into suggested grade levels (1-8). There are 14 crossword puzzles for  additional practice. Following the crossword puzzles are game cards for 26 homophone pairs and their definitions.  Included are the rules for six different games to play with the cards. There is also a fun section of tongue twisters, riddles, and puns. The appendices contain the answers to all the worksheets, an alphabetical listing of the homophones used in the text, and a mega list of homophones that include many more homophones not included in the worksheets.
I have been using the worksheets with my 3rd grade daughter.  She struggles with spelling in her writing, though she is able to learn words for spelling tests.  I thought this extra practice with some tricky words would be beneficial.  She has enjoyed the worksheets.  They are short, but require thought to fill in the blank with the correct homophone.  On each worksheet is a riddle, pun, or tongue twister that she has especially liked.
We also printed the cards and have tried playing several of the card games.  I played Pig with my 5th grade son and 3rd grade daughter one evening.  We truly enjoyed ourselves.  My son kept saying, "This is so much fun!"  We went through all the cards one time and they didn't want to quit so we went back through them a second time.  There are several other card games that we will be trying soon.
By now, I bet you're probably wondering what all the yellow highlighting is about.  Or perhaps you've figured it out.  I have highlighted the homophones in this review!  (I'm sure that I've missed some.) This demonstrates how important homophones are in our everyday writing.  I can't count the number of times I've seen adults misuse their/there/they're, your/you're,  or its/it's. (And I am sincerely hoping I've made no grammar or spelling errors in this review!)
Be sure to check their website for sample pages.   All About Homophones is available in either a softcover version for $19.95 or an e-book for $17.95. This resource will last your family through many years and multiple children.

Disclosure: I received this product as a member of the TOS Homeschool Crew. All opinions expressed are my own. Post contains affiliate links.