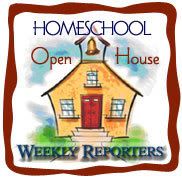 This was our first week of almost full school!  I added science, spelling, Latin, and Greek to the math and Tapestry of Grace assignments we were doing.  I also resumed phonics, math, and handwriting with my younger son.  I am so shocked, because it went smoothly!
My beautiful schedule that I posted here was made and admired for over 2 months before I actually put it to use.  Part of me didn't want to try the schedule because I knew it wouldn't work. (I tend to be one of those glass half-empty people.) The perfectionist in me was planning for failure.  However, it actually went well.  Our days flowed smoothly.  The children got their schoolwork down.  I read books to my younger 2 children.  I did my housework.  I cooked dinner.  WOW!
To summarize our week:
5th grade son
Completed 5 exercises in Singapore Math 5B (Multiplying and dividing decimals by multiples of 10)
Reviewed first 4 chapters of LFC Primer C and began chapter 5
Took placement tests in Spelling Power and began Level H
Put the final touches on the Royal Game of Ur.
3rd grade daughter
Completed 10 pages in Miquon yellow.  Will finish book next week and begin Singapore 3A.
Started Spelling Power Level D
Completed LFC Primer A Chapter 1
1st grade son
Practiced C-V-C words with Happy Phonics
Learned lowercase w and a in HWT
Practiced writing and counting numbers 11-20 Singapore K 2A.
Made a model ziggurat from boxes at TOG co-op
5th and 3rd grader
Completed Week 1 in Elementary Greek 2. (Alphabet review and Uncial (uppercase) letters)
Read 6 chapters in Tirzah (TOG)
Completed compositions on the Tower of Babel (TOG)
Listened to Exodus chapters 19-30 (TOG)
Learned the furnishings of the tabernacle (TOG)
Began making a model of the tabernacle (TOG)
5th, 3rd, and 1st grader
Completed Lesson 1 in Elementary Zoology 3 (Predator and prey, animal careers)
Made M&M habitat and did an M&M camouflage experiment
Participated in TOG co-op
Attended science class at local science museum