Disclosure – I received a free copy of Christmas Around the World Unit Study in order to write this review. I was compensated for this post, but I was not required to write a positive review. All opinions expressed are my own.
It's late July. What's on your mind?
A. It's hot.
B. I can't believe that summer is almost over.
C. I really need to figure out school plans for this year.
D. We ought to do a Christmas Around the World unit study this year.
I'm betting the answer is probably not D. However, I know that Christmas always sneaks up on me. We have done a few fun Christmas activities over the years including Borax Snowflakes. But every year I think we should try to do a study focusing on Christmas during the holiday season. But I tend to think of that when it's too late, and I'm already scrambling to buy gifts, bake cookies, and decorate.
But what if I did start thinking of that now? What if there was a resource that planned a Christmas Unit study for me?
Thankfully there is, and I was sent a copy to review. It's Christmas Around the World Unit Study by Katie Horner.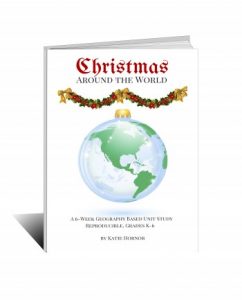 Christmas Around the World is a a 6-week Geography Based Unit Study for grades K-6. It covers Christmas traditions in 29 different countries plus 1 lesson on Christmas Carols in a total of 196 reproducible pages.
There are 2 informational pages for each country. The first page provides text with information about the celebration of Christmas in the country. The second page includes a list of recommended resources for additional study. There are lists of books and websites that provide ideas to focus on history, home economics, geography, art, music, or math.
Following the informational pages, there are 4 additional pages for each country. For each country there is a coloring page and country information sheet. The other 2 pages include a variety of different activities such as word searches, writing prompts, matching games, and comparison of traditions in different countries.
The book is designed as a 6-week unit study with one country studied each day. Choosing that option, you could start in mid-November and study all the countries before Christmas. But there are many other ways you could use this resource.
Add it to your geography studies throughout the year
Divide the countries and have each student present what they learned at a co-op or other group
Study more than one country per day
Divide the countries by continents and study traditions from different regions spanning multiple years
I think I can cross one thing off my Christmas to-do list! You can too. You can purchase a copy of Christmas Around the World Unit Study for $26.97.
Now back to thinking about how hot it is.