Disclosure – I received a free copy of Mexico Coloring Book & Geography study in order to write this review. I was compensated for this post, but I was not required to write a positive review. All opinions expressed are my own.
Geography Study
I consider myself to be fairly knowledgable in the subject of geography. As a family, we're committed to Raising Map Nuts. We make up geography games and quiz each other on the what state our tortilla chip looks like. We've visited all 100 county seats in our home state of North Carolina, and we have a goal of visiting every state capital.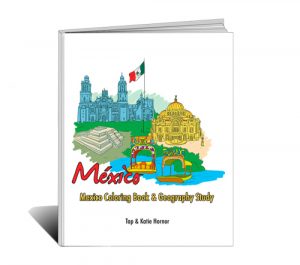 When I received the Mexico Coloring Book & Geography Study by Tap and Katie Hornor, I was a bit ashamed to discover how little I know about the country of Mexico. I know all the provinces of Canada, but I not only didn't know the names of the Mexican states, I didn't even know how many there are! (There are 31 plus 1 federal district, in case you're wondering.)
About the Book
The Mexico Coloring Book & Geography Study includes a black line map of each state. The capital city is marked for the student to label as well as the major rivers. Each map page also includes a small map of Mexico with the individual state marked for reference. On the bottom of the page is a catalog of facts about the state. These facts include the state motto, shield, area, capital, and other interesting facts. Each of the state pages is included in both English and Spanish.
Also included (in both English and Spanish) are notebook pages for compiling the data on the Mexican states. There are pages for Biography, Demographics, Coat of Arms and Motto, Geography, State History, and Historical Monuments. The entire booklet is reproducible for use within your family.
Suggested Uses
This resource would be a great spine for a full study on the country of Mexico. I think it would also be a great resource for Spanish teachers as a springboard for studying Mexican geography, culture, and related topics. You can purchase the book from through Amazon for $19.97.