Much research has shown that early childhood is an ideal time to begin learning a foreign language. Because of this, I've always tried to expose my children to Spanish at a young age. I chose Spanish mainly because it's the easiest foreign language to find resources for children. Ideally, I would teach them Spanish by speaking it to them. But unfortunately, I don't speak Spanish. So we've used various computer programs, some television shows, and even a homeschool class to expose the children to Spanish.
Now I still have young children but Lizzie (almost 6) hasn't really had any exposure to Spanish with the exception of watching Dora. (I hope I'm not the only one who has really high ideals and standards with the older children, but then relaxes them out of necessity with the younger ones!) So I was really excited when I was selected to review Speekee TV.
What (or who) is Speekee?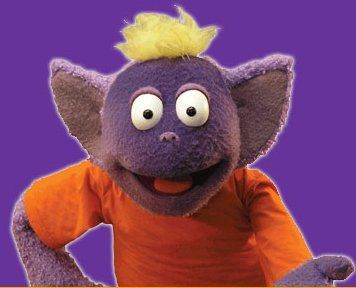 Speekee is a lovable, purple, Spanish-speaking puppet. Speekee and his friends speak only Spanish on the 10 episodes of Speekee, so watching Speekee is a total immersion in Spanish. The program is not vocabulary focused, although there is plenty of vocabulary included, but is very conversational in nature. The program also includes many songs which are very catchy. (I catch myself singing them!)
In addition to Speekee TV, there is a free FastTrack curriculum  that adds fun activities, worksheets, and flashcards correlated with specific segments of the Speekee episodes. The FastTrack program provides plans for 40 weeks of instruction. It can be accessed on-line or e-mailed to subscribers weekly.
Although Speekee is available on DVD, I received Speekee TV to review. Speekee TV is a subscription service allowing access to all the episodes on-line. We can hook our computers up to our television, but for ease of use (or maybe my own laziness), I just had Lizzie and Andrew watch Speekee on my laptop. We experienced no difficulties accessing the website or streaming the programs. The interface to select an episode is very intuitive, and Lizzie quickly figured out how to start the desired episode.
I opted to use Speekee in the simplest way possible. I had Lizzie (almost 6 and in the 1st grade) and Andrew (20 months) watch the programs. That's it. I did receive the FastTrack curriculum e-mails as well, and they look like an excellent way to reinforce the Spanish learned in the program. I will be using some of the activities with Lizzie as she watches the episodes again. The activities are too advanced for Andrew, obviously. Speekee is recommended for children ages 2-10, so he's a little too young. But he isn't too young to enjoy the program. He LOVES it. He was sitting beside me when I started writing this review and was very excited to see Speekee on my computer. Then he was very upset that we weren't going to watch Speekee right now.
So are my children walking around speaking Spanish after 6 weeks of watching Speekee? Well, no. But Andrew is just barely starting to speak English. And with a program like Speekee, that isn't the goal. I think Speekee is a fantastic and fun way to get children started on Spanish. They can learn at a young age what Spanish sounds like. They can begin to imitate it and say Spanish words with the correct accent. That can only help them in future study. (By the way, I should mention that Speekee is a UK production, so the Spanish spoken is like the Spanish spoken in Spain, not Latin America. It's the same language, but there are some differences in some pronunciations I've been told.)
The recommended age for Speekee is 2-10. In my house it would never work past about 8 years old. Not because the content is too easy, but because my children would revolt at watching anything so childish after that. But every family is different, and I'm sure there are many who would find it an effective program for 10 year olds.
There are 2 subscription options for Speekee TV –
Both options give 2 weeks free at the beginning of the subscription. That allows users to try out the program to make sure it's a good fit for their family.
If you have little ones, I highly recommend Speekee!
Disclosure: I received a 6 month subscription to Speekee TV in order to write this review. I was not compensated for this review. All opinions expressed are my own.