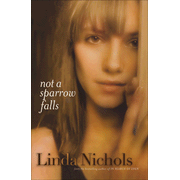 Not a Sparrow Falls is the story of Mary Bridget Washburn, a young woman from the mountains of Virginia, who has fled her Christian upbringing and has been living and assisting at a meth lab. Seizing an opportunity to escape, she eventually meets a widowed minister with three children. She is determined to keep her past a secret, yet knows deep down that it will be exposed in the end. She knew the Lord as a girl, but doubts that He could forgive her for her many sins.
I've been complaining about some of the "Christian" fiction that I've been reviewing, because much of it is "Christian" only in its lack of certain elements (bad language, sexual themes, etc.). But these so-called "Christian" books contain nothing of the gospel in the story. That is not true of Not a Sparrow Falls. This book was not only exciting and suspenseful, but it also dealt with forgiveness and restoration in a Biblical way. It did that without being "preachy" or forced. The gospel was a natural element of the story, as well as the power of prayer and the extent of Christ's forgiveness. I absolutely loved this book and recommend it without hesitation.
This is my 17th book completed in 2010. Visit 52 Books in 52 Weeks to see how others are doing in the challenge.


Disclosure: I received this book from Bethany House for free to review. I was not compensated for this review. This post contains affiliate links.