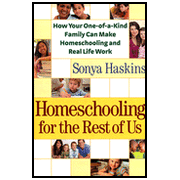 It's week 2 of the 52 book reading challenge and I read 2 books this week! The first one was Homeschooling for the Rest of Us by Sonya Haskins. I reviewed this book for Curriculum Choice.
The second book I read was A Flaw in the Blood by Stephanie Barron. I enjoyed her Jane Austen Mystery series and discovered this title from an Amazon list. Lucky for me, it was also available from the library. I am a big fan of historical mysteries, especially English ones.
A Flaw in the Blood takes place in London just after the death of Prince Albert, Queen Victoria's husband. The two main characters are an Irish barrister, Patrick Fitzgerald, and his young ward, Georgiana Armistead. Miss Armistead also happens to be trained in medicine. In the last hours of Prince Albert's life, Patrick is called to Windsor where they try to convince him to destroy research from a much earlier trial in which he defended a man accused of attempting to assassinate the Queen. After he refuses, he and Georgiana, who was waiting for him in the carriage, are involved in a mysterious accident. It quickly becomes apparent that someone wants both Patrick and Georgiana dead.
Every other chapter is told from Queen Victoria's perspective. I gained knowledge of her family from reading this book. However, since the book is fiction, it is hard to separate the truth from fiction. I have read many books about London in this time period, and it was a city a stark contrasts. The wealth and privilege of the upper class is vastly different from the squalor of those living in the slum areas of London.
Some of the gruesome details of life for the poor are mentioned, as well as the many sins of some of the royal family and upper classes. For the most part it wasn't overly graphic. I try not to read books that provide too much detail of sinful behavior. This one usually references behavior without providing vivid descriptions. However, there were a few scenes I would have preferred to have been omitted. (Forgive me for being deliberately vague. There are some words I don't want to type on my blog because of search engines.) Overall, I liked the book, but like her Jane Austen Mysteries much more.
See what others are reading at 52 book in 52 weeks and Semicolon's Saturday Review of Books.