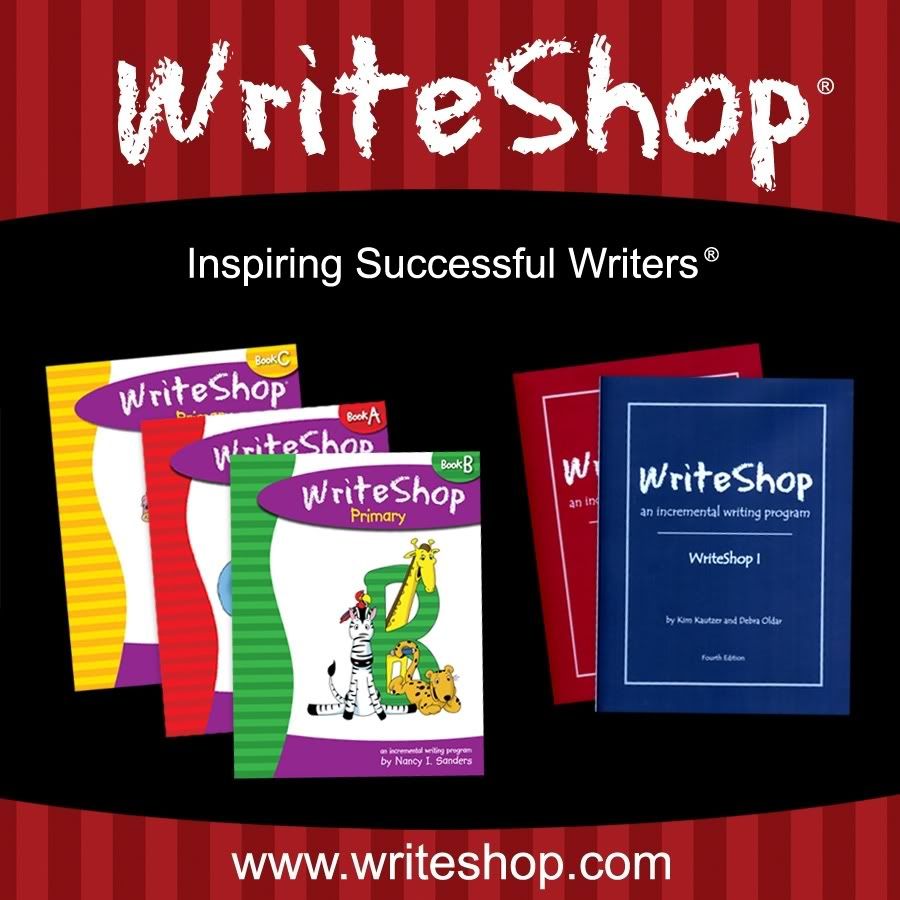 I have taken a somewhat laid-back approach to writing in our homeschool. I have never purchased a writing curriculum, instead using only the writing that was included in our English program. The kids have regularly written reports for our co-op and book club as well. But, I really don't know very much about writing instruction. Many homeschoolers worry about teaching advanced math and science, but that's not my worry. I'm much more concerned about upper-level literature and composition. It's not that I don't know how to write (hopefully you agree!), but that I don't know how to teach writing. So, writing curriculum has thus far been something that I have planned to use in the future. I've seen WriteShop recommended as an excellent writing program for several years now. I hadn't paid a lot of attention, because it is a program designed to be used with students no younger than the sixth grade, and my oldest is just now finishing 5th grade. I had filed it away as something to look at "later".
But now WriteShop has published the first of three writing texts for students to begin as young as kindergarten. I received WriteShop Primary Book A in e-book format to use with my first grade son.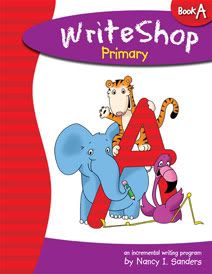 My first reaction when I heard I was going to review this was "Oh no! How am I going to use a writing curriculum with my first grader? " Though I call him first grade, he's really not doing first grade work, and he's just now getting the hang of handwriting. I shouldn't have worried though. This is a very flexible program that can be used both with children who can physically write their own words, and those who still need help with writing.
The text begins with a thorough introduction. The introduction explains the structure of the program. It includes plans for completing the three primary books at varying beginning ages. The books can be completed in one, two, or three school years depending on the pace of the lessons.
Book A contains ten lessons, with each lesson being divided into eight sections. These charts show suggested weekly schedules for the three different lesson plans.
The Three-Week Lesson Plan
The Two-Week Lesson Plan
The One-Week Lesson Plan
As shown in the lesson plans, each of the lessons includes Guided Writing Practice that is to be completed every day that writing is studied. There is a general explanation of the Guided Writing Practice time in the introduction, as well as very specific directions for each of the practices within the lesson. Each of the lessons includes a lesson focus and revolves around a lesson theme. Primary A includes lessons on
Getting started
Personal Writing
Thinking of Ideas to Write About
Selecting a Title
Constructing a Beginning, Middle, and End
Using a Period at the End of a Sentence
Using Word Families to Write Stories with Rhyming Words
Using a Story Web to Organize Ideas
Introducing the Personal Narrative Story
Writing About Events in the Order They Happen
These 10 lessons are taught using themes that are appealing to young children. Some of the themes are animals, my favorite things, friends, trains, colors, and insects. In addition to the Guided Writing Practice, each lesson has sections for pre-writing, brainstorming, writing, editing, publishing, and additional activities. There are suggestions for making the lessons both more challenging for more advanced students and easier for beginning writers.
My son and I are enjoying this so far. It is a fun and gentle introduction to composition, but it is not fluff. The composition topics covered are valuable. There are related hands-on projects included that offer a fun extra with each lesson. I've also seen samples of levels B and C which will be published soon. They are appropriately more advanced. The sample from Level B has the lesson focus of letter writing; the Level C sample is about writing a mystery.
I like the way this text is organized. It has plenty of explanation and a nice layout and flow of the lessons. The objectives for each lesson are clearly defined and the materials needed for each lesson are clearly listed both in the lesson, and in an appendix which lists all the materials needed for the entire book. I received an e-copy of the book and found that it was very simple to use. The file was divided into separate sections for the introduction and each lesson, making it easy to find the lesson you need without a lot of scrolling. I print one lesson at a time and have not found it to be a large amount of printing. The e-book is more cost effective as well. It costs $2 less than the hard copy, and, in addition, doesn't incur any shipping costs, saving an additional $5.
I would not consider this an absolutely essential purchase, but an excellent choice if you want to begin writing instruction with a young student. This is the first writing program I've looked at that made any sense to me. This program looks like a winner for young students. My first grader is progressing well through the program. Now I need to take a closer look at their other products for older students!
WriteShop Primary A is available to purchase from WriteShop for $26.25 for the print edition, or $24.25 for the e-book. You also need the accompanying Activity Set worksheets which are $4.95 and $4.50 for the print and e-versions respectively. For more reviews of WriteShop Primary, be sure to go to the Homeschool Crew Blog.

Copyright © 2008 by Nancy I. Sanders and WriteShop, Inc. Page samples used by permission.