One of the things that a blogger is not supposed to do is to comment on the length of his absence. But in reviving an old blog, I don't think that can be avoided. I have left my old About Us page accessible and you can read what our family was like 6 years ago. I confess I may have shed a little tear when I read that old post. I think that 6 years is a long time in the life of any family, but it has been an eventful 6 years for us. If you used to read the blog then, are finding it now, or know us in real life, I would like to introduce you to my family now.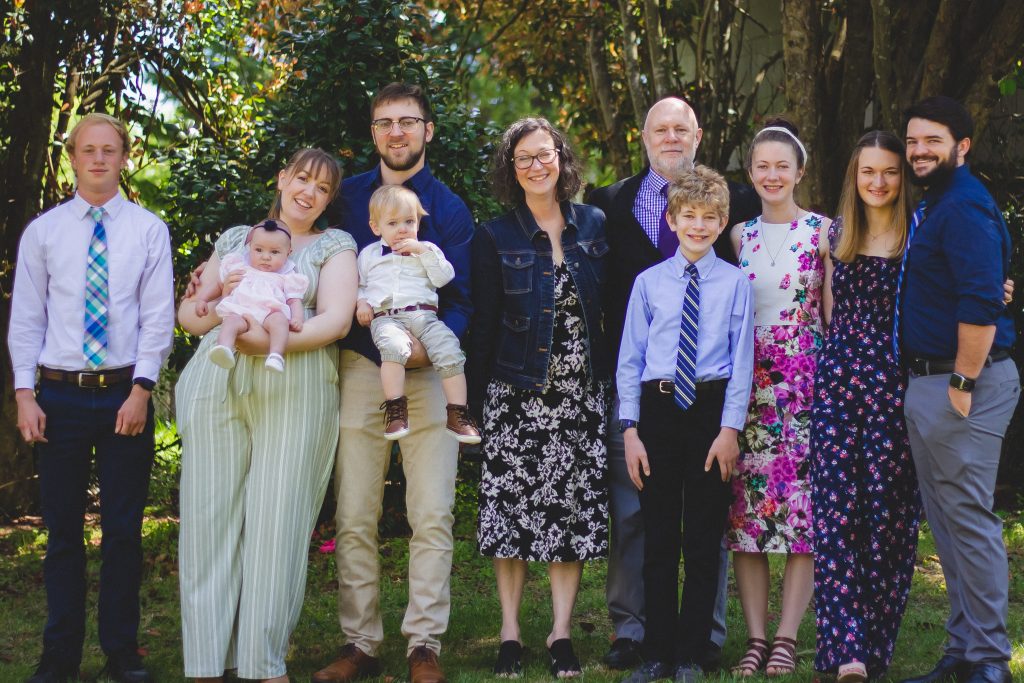 Staying the Same
There are many things that have not changed.
I live in the same house. I am a member of the same church. I still have the same 5 children and husband.
But what a difference the time has made. I now have 3 homeschool graduates!
Changes
My oldest son David married his lovely wife at the end of his sophomore year in college, and they have given us 2 beautiful grandchildren. They both completed their degrees and he is a motion graphics designer.
My older daughter Anna is preparing to get married this August. She enjoys her job at a local consignment shop.
My middle son William has almost completed his freshman year in college where he runs cross country, indoor, and outdoor track.
While my two youngest are still homeschooled, our homeschool looks quite different than it did with all 5 kids at home. Lizzie has just completed the 10th grade. She has attended classes 1 day per week outside the home going to the home of an older couple who teach her along with a few other students. This year her courses there were Algebra 2, English, Government, and Biology. I still oversee her learning, but mostly she works independently.
Andrew, my youngest, has completed 5th grade. We joined a homeschool co-op when he was in 1st grade where we meet weekly for History, Science, Latin, Fine Arts, and Geography. I'm still very involved in his education as I read most of his assignments aloud. I also teach him Math at home and writing and grammar at the co-op.
My husband recently retired from teaching in the public schools. He's going to be trying out teaching in a homeschool co-op and the private school setting in the fall.
My days
I stay busy teaching an IEW class at co-op, doing the bookkeeping for both the co-op and our local homeschool sports association, and all the regular homeschool mom tasks many of which seem to involve me driving people places.
I love to read and learn new things. I'm very interested in the topics of simplicity and minimalism as well as frugal living. I also enjoy reading books on theology, cozy historical mysteries, time management, and habits.