What I Learned from Playing a Game Every Day for a Month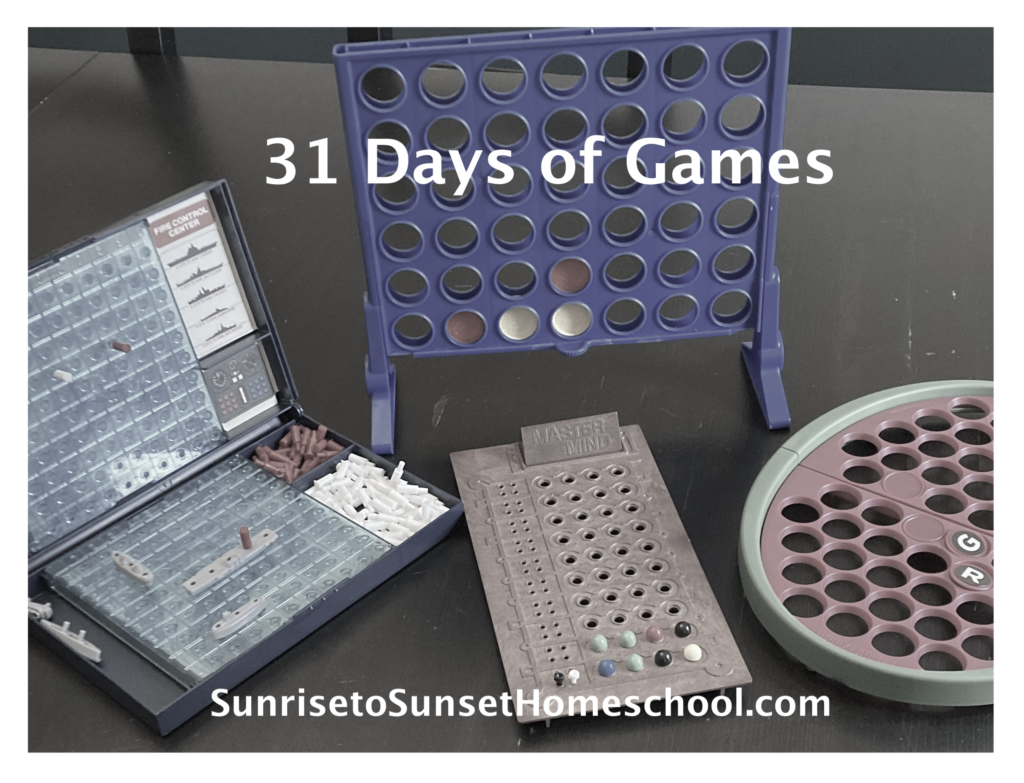 I don't remember where I got the idea. I think it was an aside in an article about goals for the New Year. But for some reason, I decided that I wanted to complete a daily game challenge in January. There were a few rules to this challenge. Single-player games would not count. Neither would anything played on a screen. These had to be touch with your hands, physical games.
I didn't originally have any requirement as to whom I would complete the daily game challenge with, but I very quickly found that the only willing partner I had for this challenge was my 12 year old son, Andrew.
1. We have a lot of games.
Though I'm kind of a wannabe minimalist, I haven't let my decluttering touch the game cabinet. With the youngest of my 5 children now 12 and the oldest 24, we've had a long time to collect games. While we do own many of the classic board games, many of our favorites are newer.
By about January 5, we had decided that not only were we going to play a game daily for 31 days, but it had to be a different game. I initially questioned whether we had enough games to do it, but it turns out we do with some to spare.
2. I have more time than I thought.
When I started this challenge, we were still on Christmas break. We also had a gradual start back to our full schedule with our co-op not resuming until January 13. I knew we could do it for the first week or two, but what about when things got busy?
It turns out all the conventional wisdom was true. You do make time for what's important to you, and it helps to have an accountability partner. On weeknights, we typically played right after the dinner dishes were cleared and loaded in the dishwasher. One Sunday I knew that I had to leave for a short road trip immediately after church, so we made time for a game in the morning before church.
3. There are many short games.
In the past, I tended to think that we didn't have time to play a game right now, so we'd better wait until tomorrow. However, I found that almost all of the games we played could be played in less than 30 minutes with many taking only 15 minutes. Obviously, you could play multiple rounds, but games like Spot It, Set, Skipbo, Rat a Tat Cat, and many more are fun and quick.
We did have one family night playing Ticket to Ride Europe, but other than that, our games were fairly short.
4. Spending time together is fun.
OK, so I guess I already knew that, but as a homeschool mom sometimes it seems like I'm always having to be the bad guy – making sure assignments are complete and chores are done. This allowed me to spend time just having fun with my son. Of course, you and your gaming buddy do need to like games for this to be a viable option for fun. If games are not fun, then you could come up with a different challenge to spend time together.
5. We might be able to part with some games.
When you've completed a daily game challenge for a month and find that there are a few games that you never wanted to play, it's probably OK to let those go. Or you could try to play them one more time before making the final decision. Maybe it's more fun than you remember.
6. Games don't need to be educational.
I used to be more concerned about the educational value of games. But actually, I'm sorry to say that if a game is designed to be educational, it's more likely to be boring. There is value in games as games. Some require strategy. Some visual acuity. Some quickness. Some memory. Pretty much every game can help improve some part of your brain, so you don't have to look hard for specifically educational games. I actually wrote an article a very long time ago on our favorite thinking games on The Curriculum Choice.
What do you think?
What's your favorite game?
Are you up for a 31 day game playing challenge?
Do challenges inspire you?