Do your children like to act out their history lessons?
Do you want to make history come alive?
Does your history curriculum suggest activities like dressing in historical clothing?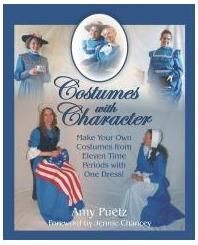 I have a fantastic resource to recommend. I was recently given a copy of Costumes with Character from Golden Prairie Press to review. Costumes with Character contains information about the different clothing styles worn by women and girls during various eras of American History. It also has instructions and patterns for making your own period costumes that are both simple and inexpensive.
How can you make period clothing both simply and inexpensively?
The concept of this book is wonderfully simple. To start, you make or modify a basic dress. Then that same dress is used for all the costumes. For each period, there are things that you make to add to the dress such as different collars and aprons. What a fantastic idea!
My 12 year old daughter Anna wants to learn to sew, so I let her look at the book and see what interested her. Since she's been studying the pioneers, she decided to make a sunbonnet.
The instructions for each of the projects are included in Costumes with Character, but the patterns must be enlarged.
That was actually a fun lesson in using a grid for enlarging a drawing.
The instructions were reasonably well written. I am not an expert seamstress, but I'm not a beginner either. I did used to sew much more frequently. (I don't have much free time these days! I wonder why?) I found that I had to start on the project before some of the instructions made sense.
We ended up modifying the pattern just a bit and using elastic in the back at the neckline instead of tightening with ribbon. I also made the ties inside-out thinking that we were going to turn them. But that was not the fault of the instructions. It very clearly showed sewing them the other way. I'm not sure where my brain was.
Then we ran into some machine difficulties. We decided to finish the bonnet using hand stitching. That's more authentic anyway, right?
Here's Anna modeling her new sunbonnet! I think it turned out really cute .
I received Costumes with Character in e-book format to review. It is regularly priced at $21.95. The book is also available printed for $37.00. In addition, the printed patterns are available for $15.00. That would definitely be much easier than having to enlarge all the patterns in the book.
Disclosure: I received Costumes with Character in e-book format for the purpose of this review. I was not compensated for this review. All opinions expressed are my own. Any quoted price is subject to change.