One 2 Believe is a company that specializes in toys that are based on the stories of the Bible. The mission of the company is to help children to learn Bible lessons and come to faith in Christ.
I have previously reviewed their nativity set and recently received the Tales of Glory Noah's Ark set to review.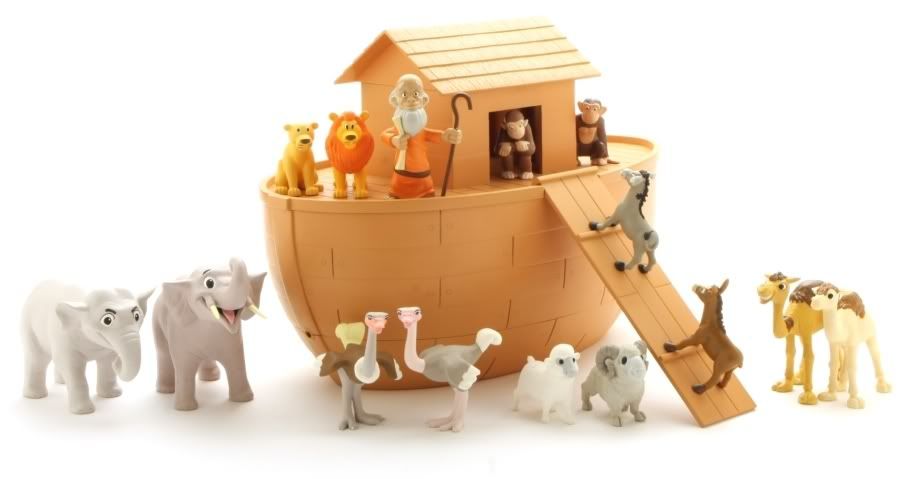 The Noah's ark set includes the ark with ramp, Noah, and 7 pairs of animals. The animals included, as shown above, are elephants, camels, chimpanzees, ostriches, sheep, donkeys, and lions. As you can see, the animals are very cute. I especially like the fact that the male and female animals are different from each other.  The ark is made of sturdy plastic and opens up, not very easily, to store all the animals, which is another feature that I greatly appreciate.  There is no worry about the animals getting separated from the ark in the toy box. Another fun thing about this ark is that it floats, so it can make a great bathtub or wading pool toy. Both my 2 year old daughter and my 6 year old son have enjoyed playing with it. My daughter requests it if I put it away for a day. Even my older two have played with it, especially with the younger ones.
I do wish that the ark was set up so that the animals could walk up the ramp and go into the ark. That would require a different design though and would most likely prohibit it from floating, so that would be a trade-off. I also wish they would have included Noah's wife. One other wish I have is for an ark that is shaped like the biblical ark. From the biblical account, we can determine the dimensions of the ark and it was NOT the cute little boat shape that is depicted in most children's books and toys.  I would love it if someone would make an ark toy that more accurately depicts the ark.  This is not a complaint against One 2 Believe however, just a general pet peeve of mine.
The Tales of Glory Noah's Ark set is available at One 2 Believe for $29.95. For more reviews of this product, you can go to the Old Schoolhouse Homeschool Crew Blog.