I was so excited when I learned that the entire Homeschool Crew was going to receive the
Clean and Flip Chore System
and
Times Tales
by Trigger Memory Systems. I have been hearing about
Times Tales
for years and had never had the opportunity to see it. And as a neat freak, I'm always looking for ideas to help me train my kids to do chores.
| | |
| --- | --- |
| | I received 3 Clean 'N Flips: Zone Cleaning for Kids, Bedroom Cleaning for Kids, and Laundry for Kids (not pictured). Zone Cleaning covers cleaning the living room, kitchen, and bathroom. |
My children have been doing chores for a long time but they are just getting old enough to perform chores that are actually helpful to me and not just jobs for the sake of learning responsibility. It has been wonderful for me to assign them bathrooms to clean and rooms to dust and vacuum.
However, sometimes I still get surprises when I check on their work. My older son frequently forgets to clean one part of the bathroom sink area. He'll clean the sink but forget the counter or the faucets.This has been very frustrating. To me it seems so obvious how to clean the bathroom counter that I don't have to think about it. I think that is part of the problem. Since I don't have to think about it, I have not done a good job of breaking the job into small steps for my children to learn. My daughter still has a lot of trouble cleaning her room. I think it is too overwhelming a job for her at times. When I say go clean your room, she doesn't really know where to start.
That is the wonderful thing about these flip lists. Each chore is broken down into very specific, manageable tasks. For example, the first step in cleaning the bedroom is to make a messy pile. Then sort the mess into 4 different baskets. Next, find the trash and throw it away, etc. Each of these steps is on a single page with an illustration. I think the authors have done an excellent job of breaking down each of the chores into easier tasks. Some of them seem obvious to me, but I am learning that what seems obvious to me is not always obvious to my children.
Each Clean 'N' Flip is printed on sturdy paper and spiral bound at the top. The Zone Cleaning system can be used with a dry erase marker. They are available at Trigger Memory System and can be purchased for $29.95 for all three Clean 'N' Flips (the best deal) or can be purchased individually.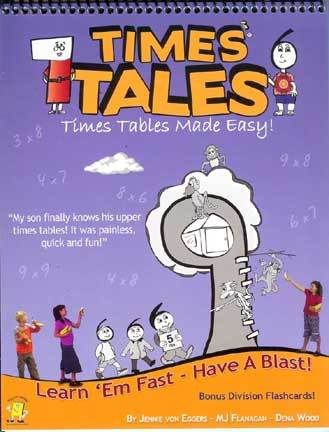 I also received
Times Tales
to review.
Times Tales
is a sturdy, spiral bound book of picture stories to help students memorize multiplication facts. The numbers are assigned symbols to represent them in the stories. For example, 3 is a butterfly, 4 is a chair, and 8 is Mrs. Snowman. Each multiplication fact has an accompanying story for the student to learn. For example, one story is:
Mrs. Snowman stood on a Chair to reach her 3 buttons and 2 mittens.
There is a picture accompanying the text. In the example story, Mrs. Snowman represents an 8, the chair represents 4 and the 3 buttons and 2 mittens are 32. So 8 X 4 = 32. There is a detailed instruction manual included. The manual outlines the steps for using the program: beginning with learning the stories, then associating them with the math facts, finally recalling the facts. There are also flashcards and quizzes included in the instruction manual.
I tried the system out on my 3rd grade daughter and 5th grade son. Honestly, they didn't like it. I think this may be a good example of a product that is really helpful to many people, but unnecessary for others. My kids are really good at math. I do think they need a little more drill and was hoping this program would help them to know their multiplication facts faster. Maybe it would work if we stuck with it. But I found that the stories were harder for them to remember than the facts themselves. It seems like using this method would actually slow them down having to first remember the story, then translate it into its corresponding math fact.
However, I still think this is an innovative, high quality product, that could be a very useful tool for memorizing multiplication facts. It would depend on the child.  I have 2 younger kids and who knows, this might be a perfect fit for them. Times Tales is available at Trigger Memory System for $29.95.
You can read more reviews at the Homeschool Crew Blog.