Disclosure: This post contains affiliate links. If you purchase something through one of the links, I will receive a small commission.
This week we're talking about Math and Science in the Virtual Curriculum Fair hosted by Susan @ Homeschooling Hearts & Minds  and Laura @ Day by Day in Our World. I've spent an interesting couple of hours going through old posts on my blog and I have come to the following conclusions.
I have a ton of posts about math. Some of the best ones are the posts for previous Virtual Curriculum Fairs.
If I Knew Then What I Know Now About Math
Spiral Math: The Post Where I Admit I Was Wrong
Thinking Mathematically: How I Choose Math Curriculum
Besides those, I've written reviews of my favorite math curricula as well as various other math curricula and supplements I've been asked to review over the years.
There are also posts lamenting my oldest son's lack of speed in math calculation and the need for more drill.
(He still doesn't show his work on his math, but if you check out this video he made for a national math video contest last year, I think he's doing just fine. He placed 2nd!)
Then I did a search for posts about science and found fewer posts.
There's a review for Apologia Elementary Science. I used several of their books for my older kids when they were younger. It's a great program. Now both my high schoolers use Apologia Science text books. And in theory William and Lizzie are using the Apologia Elementary ones. But practically speaking…
We're unschooling science for the younger kids.
I'm not totally satisfied with that fact. Really it's a big experiment. (Seems fitting since I am talking about science, right?)
But the truth is, I just don't get science done with my younger kids.
It's on my list every year.
It's always a goal.
But I've yet to achieve it.
Even though we don't "do" science very often here, that doesn't mean William and Lizzie know nothing about science. We own the entire collection of Magic School Bus videos. Lizzie and Andrew watch them all the time. (William is too old for them, but he watches them anyway.) We also have many of the Magic School Bus Books, lots of Usborne science books, animal books, and the entire set of Moody Science videos.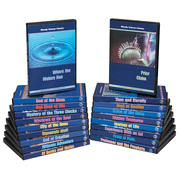 We also have fun science kits that the kids think of as toys. Today William built an egg beater with K'nex. Another fantastic science "toy" are these Snap Circuits. These get a lot of "play" time!
Will my unschooling experiment end up with high schoolers who can't learn science?
I seriously doubt it. But I'll probably still feel guilty occasionally about our lack of formal science instruction. Then I'll try to remember all they are doing on their own for science.
Don't miss this other great posts about Math and Science.
Learning about Patterns in Our World Through Math and Science by Laura @ Day by Day in Our World
Relaxed Homeschooling: Mathematics in the Early Elementary Years by Brittney @ Mom's Heart
Using a Bible-Based Math Curriculum by Tauna M @ Proverbial Homemaker
Math, Science and Logic for 2015 by Chareen @ Every Bed of Roses
Playing with Numbers by Sarah @ Delivering Grace
Unschooling Science by Kristen H. @ Sunrise to Sunset
Logically Speaking: Math, Science, and Logic for 7th Grade  by Christy @ Unexpected Homeschool
Numbers and Molecules! by Michele @ Family, Faith and Fridays
Math and Science in Our Homeschool by Jennifer @ A Glimpse of Our Life
5 Math & Logic Resources We Love by Becky @ Milo & Oats
Giving Your Kids The Right Start With Math by Amy @ One Blessed Mamma
Math in Our Classical / Charlotte Mason Homeschool by Sharra @ The Homeschool Marm
Classical STEM by Lisa @ Golden Grasses
Math, Science and Logic – How do we Tackle Them? by Joelle @ Homeschooling for His Glory
The Physics of Delight-Directed Learning by Susan @ The Every Day of Education
Tackling High School Science by Debra @ Footprints in the Butter
Choosing Math Curriculum for Special Learners by Heather @ Only Passionate Curiosity
Math for all ages by Denise @ Fullnest
Middle School Monday – Math With Fred by Kym @ Homeschool Coffee Break
Learning With Math and Science Resources  by Leah @ As We Walk Along the Road