Early in our homeschool days, we were introduced to the idea of classical education. My husband and I were immediately hooked on the concept. We started our oldest son learning Latin in the 2nd grade.
As time progressed, we continued on the classical education path, though in a more relaxed manner than we had originally envisioned. We've continued with Latin studies for our older 2 children, and in middle school, we introduced the topic of logic.
I received The Art of Argument from Classical Academic Press to review. This book is an introduction to the informal fallacies. My older daughter is in the 6th grade, which is an ideal age to begin this study, though it is suitable for older students as well.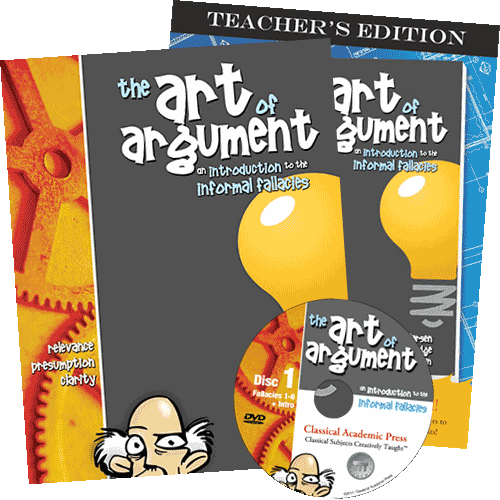 The Art of Argument divides the fallacies up into 3 Units: Presumption, Relevance, and Clarity. Within these units a total of 28 fallacies are discussed. Each fallacy is introduced with its definition. This is followed by examples and questions for the students to answer. Each chapter also includes a discussion between Socrates, Nate, and Tiffany. These discussions are great helps in understanding the concepts.
The soft covered text and teacher's edition include many helpful illustrations. The teacher's edition is the full student text with the answers filled in, rather than just an answer key. There are also DVD's of the lessons available.
My daughter has been enjoying this course so far. She's worked through the introduction and the first several fallacies. Like just about everything else, she's working independently on this study. Because of this, I expected her to really appreciate the DVD's. However, she didn't find that they added much over the book and prefers just reading. I think the DVD's are very well done with both lessons and discussions with students.
Actually, I think my daughter's feeling that she doesn't need the DVD's is high praise for the text itself. It's very clearly written and has made the subject both interesting and easy to understand. It is also humorous at times. This is a definitely an item she will continue using! I plan to have my older son read through the text as well. He completed a much shorter study of informal fallacies a couple of years ago, but I think that reading through this course will help refresh his memory on what he learned, as well as go into more depth on  some of the fallacies.
These materials can be purchased from Classical Academic Press for the following prices:
Text – $21.95
Teacher's Edition – $24.95
DVD set – $54.95
Bundle including all of the above – $88.95
Disclosure: I received The Art of Argument text, teacher edition, and sample DVD to review as a member of the Homeschool Crew. All opinions expressed are my own. I was not compensated for this review.