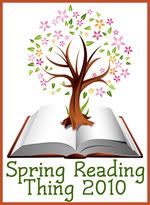 This is the first day of summer! I can't believe how quickly June has flown by. I also can't believe how extra hot it has been this spring. We've had weeks of 90+ temperatures already. That usually doesn't happen until July.
It has been a very busy spring for me. I accepted the job as HSB Senior Editor on March 17, just before spring started. During that time I helped prepare for the upgrade here at HSB and then helped educate users on how to use their blogs. I say this all in preparation for saying that my reading goals were not all accomplished.
Here is my Spring Reading Thing goals post. I had 3 specific goals. The first was to read the next classic book in the list from The Well Educated Mind. That was Anna Karenina. I am happy to report that I did complete it. My second goal was to read another Jane Austen book. I chose Mansfield Park. I never went so far as to locate a copy of the book, so obviously that didn't get done. My third big goal was to finish reading through the Bible. I had started the 90 day reading plan and had stalled several times. I had time to finish it this spring. But nope, didn't do that either.
I did read the novels I had received to review, as well as one of the non-fiction books on my list. I actually didn't quite keep up with my 1 book a week goal. Here are the books I completed this spring, linked to my reviews if I wrote one.
Here Burns My Candle by Liz Curtis Higgs
The Crown of Kuros by Ed Dunbar
Sleep It Does A Family Good by Archibald Hart
Hunter?s Moon by Don Hoesel
Not a Sparrow Falls by Linda Nichols
The Money Answer Book by Dave Ramsey
Anna Karenina by Leo Tolstoy
Overcoming Dyslexia by Sally Shaywitz
A River in the Sky by Elizabeth Peters
The Core  by Leigh A. Bortins (review coming soon)
Visit Callapidder Days to read more Spring Reading Thing conclusions.