Drill.
It's kind of a dirty word to students and some educators. It invokes images of tedious copying of spelling words or rote recitation of math facts.
And in all honestly, it's not something that has been a strong point in our homeschool up to now. I've got some "good" reasons. (Or maybe I should call them excuses since I'm being honest.)
Son #1 has been blessed with a memory that doesn't require much drilling.
The attitude about drill has been less than stellar.
It takes me time  to go through flashcards or quiz effectively.
But to lock something into long-term memory there is going to be some drill required. Really. There is just no way around it. One could make the case that anything someone uses often they will remember, and if they don't use it often enough to remember, then they can just look it up or figure it out when they need it. But I personally disagree. There are some things that I want my children to KNOW.
I was excited to find that I had been selected to review Big IQ kids.com as a member of TOS's Homeschool Crew. Ideal for students in 2nd through 5th grades, Big IQ kids is designed to make practicing spelling, vocabulary, math, and even learning the states more fun than flash cards. In addition, children are rewarded for their time spent practicing with credits in the game area.
I assigned my middle son to work on Big IQ kids, since he is the only one in my family that falls in ideal age range.
We started out with math on the default setting.  There were a lot of problems in the problem set! (I think it was 50.) That was way too many for my son to do and maintain his focus.
Thankfully, I found the option to modify the math lessons.
That was a huge help. You can customize the problems so that your child is practicing what he needs to practice, and you can customize the length of assignments.
My son loves maps so he tried out the U.S. States program next.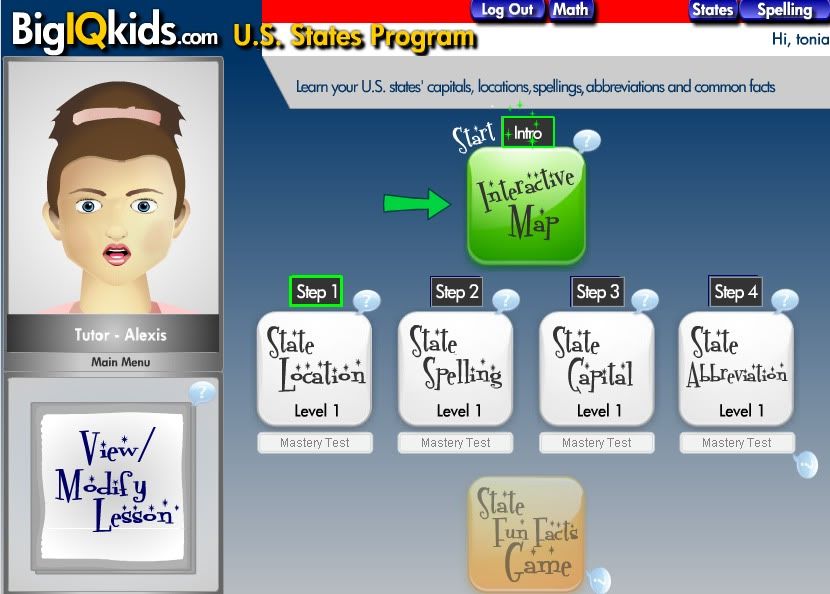 I like the way this game starts out very easy. In Level 1, the student is shown the location, spelling, capital, and abbreviation and asked to click on it or copy it. But I wish that there was an option to turn off State Spelling. Or maybe make it Step 4. Typing in the spelling of the states (even though it was just copying) was too tedious for my son, who has difficulty reading and types by copying one letter at a time. So we didn't get very far with this section.
The final section that we tried was the spelling/vocabulary section. First, I had the program generate a word list. The words were reasonable, but I soon realized that to use our time more effectively, I should enter my own spelling lists. That was simple to do.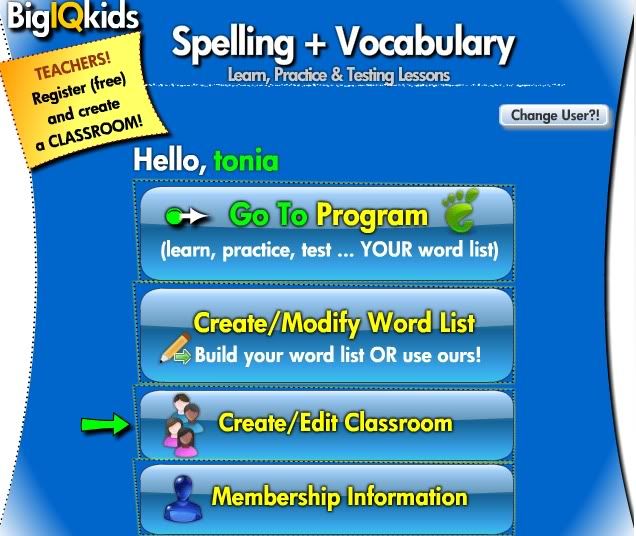 Practicing the spelling words on-line was helpful to my son. It was nice that the program automatically included a definition of the word too.
Overall, I think this is a good program to provide extra practice in a fun way. Our favorite was definitely the math portion.  I recommend trying out the free versions and seeing if they program is a good fit for your child.
All of these programs are available in both a free and premium version, except the Spelling program. The Spelling is always free! The main difference between the premium and free versions is the progress tracking capability in the premium versions. The programs are available by subject, so you don't have to subscribe to the whole program, just the subjects that you will use. You can compare the free and premium math versions and the free and premium state versions in greater detail on the website.
The MathFacts Program is available for $9.99/month or $49.99/year. The U.S. States Program is available for $39.99/year.
Disclosure: I was given a free subscription to both the U.S. States and MathFacts Programs in order to do this review. All opinions expressed are my own.